The Absolute Best Free Image Editor (No Email Signup or Ads)
Looking for the best free image editor? How about two?
"Free Image Editor" can sound fishy, but we promise you these two programs are incredibly legitimate.
We use Inkscape and Gimp almost every day. (These programs are completely free; No Ads; No Email Signups)
We like cool stuff, but we also like saving money so we can spend it on cool things we want.
These two free image editors can jumpstart any beginning image creator, into an excellent image editor, FOR FREE.
Want free images? Make your own!
Normally when people think image editor, they think of Photoshop.
Thats cool, if you want to spend all that money, go for it. Admittedly, Photoshop is the industry standard for professional image editing. (You get what you pay for, but most of us just don't need all of that.)
I'll stick with my free image editor, where you could literally design an entire video game's worth of graphics.
*wink* Or a websites worth of images. *wink*
Did I mention they're free?
Inkscape- The best free image editor for Vector Graphics
Inkscape is an image manipulation program specializing in Vector graphics. If you want to create cartoon images or animated illustrations, Inkscape is for you. Vector graphics let you create images that have ZERO loss of quality when zoomed in or out on. (Go figure, this actually started as military technology for mapping systems)
Aside from Vector graphics, you can do almost anything you want with Inkscape- from designing your own logo for free, to creating buttons for your website from scratch, to simply adding customized text over your images.
Inkscape even allows you to add new fonts, so you can download whatever free fonts that you like and throw them on an image in about 10 seconds.
Here are a couple of great resources for free fonts (no email signups)
There are several ways to start creating an image from scratch, and it's really fun to just start with a shape and see what you can make out of it. You can make whatever shape you want, and put highlights and shadows wherever you like. The only limit to what you can make is your own creativity and imagination.
You can blur texts/images, add gradients, and transform image sizes super easily. If you have trouble with your current image sizes on your website or anywhere else, you can change the dimensions of individual pictures with Inkscape in just a few clicks.
Finally, you can export your creations as either .jpeg or .png which is incredibly useful for web design and other applications.
Inkscape Photo Editor Free Download – Click Here
Inkscape is a beautiful thing my friends, and as far as the best free photo editor, its tied for 1st place with..
Gimp- The Best Free Image Editor For Animation
With Inkscape and Gimp combined, it's basically like getting a free photoshop.
Gimp, or General Image Manipulation Program, has many features. I use this when I need to cut a background out of an image, do any camera photo touch-ups, and even "photoshop" or edit out items, to make the background seem like nothing was ever there.
Photo Touch-ups can be done super easily with the area select tool. Its as simple as grabbing a section of pretty skin, then copy+pasting it over zits and blemishes and such. There are different ways of editing photos, its completely up to your own artistic eye!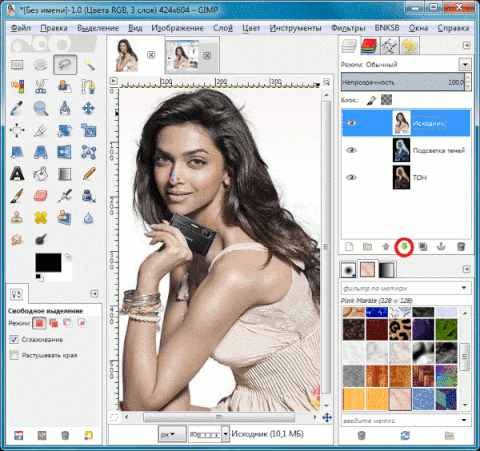 Gimp will let you stack, or "layer," photos on top of each other to create new images. (Inkscape does this too but Gimp has a different layout.) I can cut the background out of images, then layer them together to make new ones.
Gimp is like photoshop, and has some awesome features that photoshop has. With gimp, you can photoshop out or "remove" people, items, or anything else from images. For example, you can edit the background to make it appear like nothing was ever there.
The best Gimp feature- You can use it to make animations.
Here is a great video explaining how to make an animation with Gimp-

Simply draw your first frame; Then add a new layer on top of it making that new layer partly see through, or "transparent." You can then draw on top of the new layer, while still seeing the image that is underneath. (Basically a virtual light table if you have ever traced anything on a piece of paper.) You can see how he does this in the video above.
Now you can partly trace your last frame and make whatever slight changes or movements you want to the drawing on the new layer.
Once you've done this, just repeat the process until you have enough layers, or "frames" for your animation. Each layer can then be made into a frame in a sequence, thus making a motion picture!
Watch this guy make an awesome anime animation with Gimp (10x speed)


Gimp Image Editor Free Download-Download Gimp
Closing Thoughts-
At this point we feel it's important to say that even WE haven't learned ALL of the features that these two programs have. After watching massive amounts of tutorials, we've been able to do almost everything that we have wanted to do. Especially for free, these two online image editor programs are incredible.
What we can say for certain is this is open source imaging software- In other words, open to the public and FREE. 🙂 (That's completely free, no email sign-up either!)
The Best Image Editor Recap-
Gimp-
Cut Out Images
Stack Pictures
Create Gifs/Videos/Animations
Skew Photos
Remove People and Items from Images
Free download of Gimp – https://www.gimp.org/downloads/
Inkscape-
Create Vector Images
Add Text to Photos
Export Photos at Different Sizes
Images From .Jpeg to .PNG
Free download of Inkscape – https://inkscape.org/en/
Looking for more?
Not enough free stuff for you? We have an entire cool free stuff category.
Looking to laugh? Check out our funny Amazon reviews
Like getting cool stuff for under $20?
Sub to our Newsletter for AllTheCoolest stuff on the internet!
[mc4wp_form id="1281″]