Funny Donald Trump Gag Gifts (Toilet Paper and More)
Seeing as Donald Trump is now our president, we at allthecoolest decided to make a list of the funniest Donald Trump gag gifts Amazon has.
These political gag gifts are GAURANTEED to piss off at least one of your facebook friends.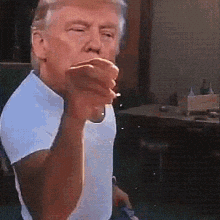 Fun fact: Toilet Paper was made in 1857 by Joseph Gayetty, In 2017 they print toilet paper with Donald Trumps face on it.
Funny Donald Trump gag gifts-
Donald Trump Toilet Paper
This toilet paper is meant to do exactly what you think its meant to do.
The pursed lips make this toilet paper even better. It's like he's puckering up for you. Clean your lovely bits with Donald Trump toilet paper on Amazon for $7.
Donald Trump Toilet Paper Roller
Since you've got Mr. Big League himself on your toilet paper, you might as well get a Donald Trump toilet paper roll too, because it talks to you in Donald's actual voice. This hilarious DT toilet roll talker has 8 different funny quotes.
"We will have so much winning when I am President, that you may get bored with winning."

-Actual  Quote From the Donald Trump Toilet Roll Talker (Amazon, $15)
Donald Trump Talking Pen
Maybe a pen with different sayings is more your style. This way you can carry the Don with you wherever you go in case you need these encouraging words-
"Our leaders are stupid, Our politicians are stupid."

-Actual quote from Donald Trump Talking Pen (Amazon, $15)
Donald Trump Pencil Holder
Sometimes you need a place to hold your pen or pencil. Might as well use Donald's a–hole. For $15, this Donald Trump pencil holder is surprisingly high quality! (5/5 Stars on Amazon)
Donald Trump Wig
This costume-quality hairpiece works perfectly as a gag gift, and for $20 you really can't go wrong.
All of your friends will instantly recognize you as… "The Donald."
 Humanity Hates Trump
Cards Against Humanity (see our review) is one of the best selling and most popular games on Amazon today.
It only makes sense there would be a Trump edition. Check out Humanity Hates Trump on Amazon.
Donald Trump Magic 8 Ball
Did you want to know your future? Hopefully its yuge.
Donald Trump Magic 8 Ball will let you know all of the secrets to life's mysteries.
Here is a short  biography on Donald Trump, With much added snark from the author.
How old is Donald Trump?
Donald Trump was born on June 14th, 1946. This would make him 70 years old at the time of this article.
How many children does Donald Trump have?
The Don has 5 children.
He has 2 Daughters
Ivanka (34) and Tiffany (22).
And 3 sons
Eric (32), Donald Jr.(38), and Barron (10)
What is Donald Trumps net worth?
According to public records, he is worth an estimated 4.5 BILLION dollars.
That could buy quite a few toupees.
This topic is also debatable. We all know that Donald Trump won't disclose his tax information, so there really is no way of knowing.
Donald Trump Bankruptcies
Mr. Trump has claimed bankruptcy, not once, not twice, but on FOUR separate occasions in his various endeavors.
Now that's a man we can trust with our financial well being.
Multiple reports have been filed that he does not pay back his debts, and many small businesses have gone on record saying that he specifically employs lawyers to fight the ensuing lawsuits.
Donald Trump's hair-
How could a bio of the Donald be complete without mentioning his beautiful golden locks?
As proven on the Tonight Show with Jimmy Fallon recently, his hair is somewhat real.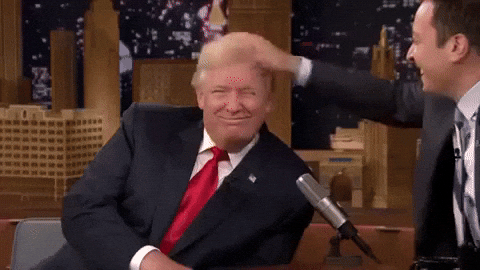 It might not be human hair, but it sure is attached to his head. 😀
I suppose with a 4.5 Billion Dollar net worth, you can afford a pretty good hair transplant.
Donald Trump gag gifts are probably the best thing you could spend your hard earned money on. We still have to deal with him for a few years, but at least we can wipe our posteriors with his likeness.
Looking for other cool stuff? Check out our coolest under $20 category!
Want Hillary Clinton gag gifts? We have those too.
Are you rich like Donald Trump? Check out the Most Expensive Item on Amazon
[mc4wp_form id="1281″]